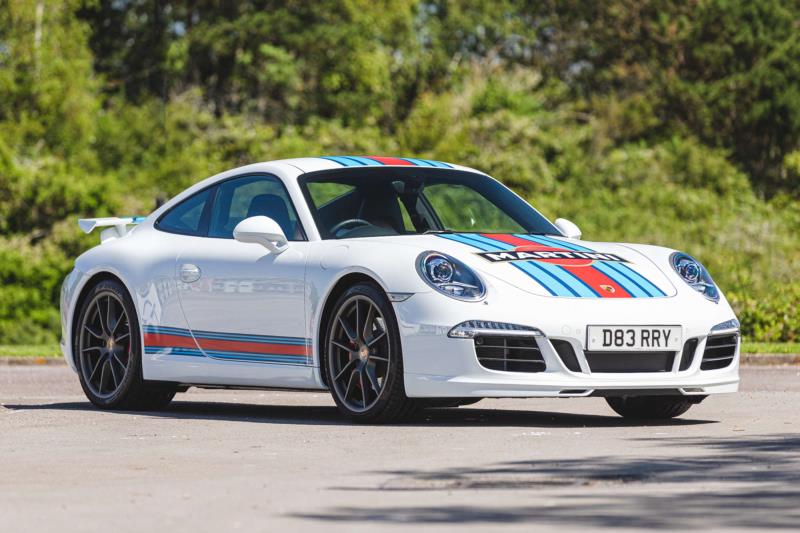 Make:
Mileage:

2800
Location:

Warwickshire, UK
Seller:

Silverstone Auctions
Sold Price:

£92,250
Sold Date:

1st August, 2021
Description:
As Martini is arguably the most iconic livery worn by any Porsche, a Martini-liveried Porsche can be found at the top of any enthusiast's wish list. Worn by the dominant 917 and 935, this partnership was short lived, and the two brands separated in the late 1970s. Martini's trademark blue and red stripes would not be seen on another Porsche until 2013, when a Martini-clad 911 GT3 RSR once again took to the track. For its road-going customers, Porsche quickly seized the opportunity to build a 911 sporting the same iconic colours.
In 2014 Porsche released a special edition 911 to celebrate the manufacturer's return to top-flight racing at Le Mans. The 'Martini Racing Edition' 991 Carrera S came courtesy of the Exclusive department.
All Martini Racing Edition 991s were equipped with the 'Aerokit Cup', as well as the Sport Chrono package, PCM Navigation system, Bose stereo, full electric seats, sports steering wheel and numerous Martini-inspired interior accents. The cars were only offered to select European markets, as well as China, Japan and Latin America (interestingly not to the US or Germany). Only 80 examples were produced, and of those, 40 were finished black with the other half being finished in Carrera White.
Delivered new to a UK customer, this particular Martini Edition Carrera S was seldom driven and has been kept in virtually as-new condi...
Related Sold Results: