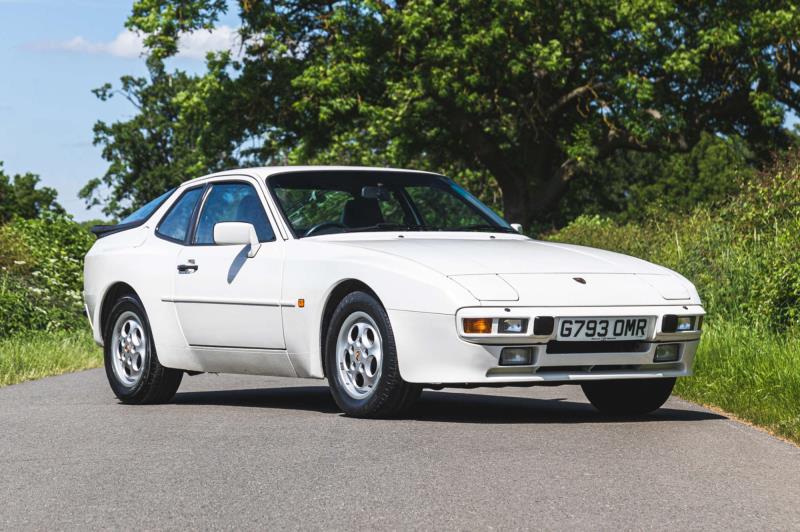 Make:
Mileage:

27500
Location:

Warwickshire, UK
Seller:

Silverstone Auctions
Sold Price:

£28,125
Sold Date:

1st August, 2021
Description:
Following the international success of their nimble 924, Porsche designed an all-alloy, 2.5-litre inline-four for their new 944 which they planned to introduce in 1982. Their talented engineers were able to produce a very smooth running four-cylinder engine by utilising two counter-rotating balance shafts running at twice engine speed. The result is a large four-cylinder engine that feels as turbine-smooth as a six.
Cosmetically, the 944's bodywork was revised with wider wheel arches (similar to that of the 924 Carrera GT), a fresh interior and upgrades to the brakes and suspension. With greater visual presence and the performance to match, better handling, stopping power and more creature comforts, the 944 was a natural step forward.Reliable, hugely popular and eminently driveable most examples available today have very high mileages and a low mileage car from single ownership is incredibly rare.
It is therefore an honour for Silverstone Auctions to offer this car to market on the behalf of our ninety-one year old vendor, Mr Mills. On the 2nd of January 1990, Mr Mills took delivery of this 2.7-litre, 944 in Alpine White with a 5-speed manual gearbox optioned with electric seats, central locking, front fog lights, headlight-levelling and washers. It also has "extended cloth" meaning that the attractive blue pinstripe cloth is extended to the centre panels, bolsters...
Related Sold Results: